The Lucky Fish Finder
Explore our collections
HOW SONAR WORKS?
The sonar fish finder sends and receives ultrasonic signals to scan underwater biomes. It displays the lakebed on a handheld device through sonar imaging. The fish finder is an important piece of the fisherman's arsenal, and it has become a common accessory around the world. We designed our Lucky products to be wireless, light, hand-held, and suitable for single-person shore fishing, ice fishing, and kayak fishing.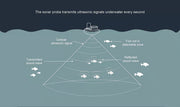 SHORE FISHING WITH WIRELESS FISH FINDER
1. Turn on the receiving host 2. Tie the fishing line to the hole on the probe to ensure recovery 3. Throw the probe into the water by hand or with a fishing rod 4. View the sonar map to assess information like fish position and water depth.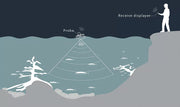 ICE FISHING FISH FINDER LOCATE THE FISH
1. Connect the probe to the host 2. Position the probe as close as possible to the ice surface 3. View the underwater fish position and depth on the display.
BOAT FISHING WITH TRANSDUCER FISH FINDER
1. Mount the receiving host on the ship 2. Connect the probe cable to the receiving host 3. Install the probe on the bottom of the boat or hang it off the side 4. Ensure that the probe is fully submerged 5. View the sonar map to determine key information including fish position and water depth 6. For dual-frequency models, the detection angle can be adjusted to expand or deepen the detection range 7. If it is a powered kayak or boat, keep the probe as far away from the engine as possible to avoid interference.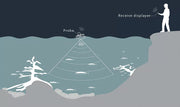 To provide an affordable fish finder
for all anglers
People love Lucky
and here's why
The best way to get to know our fish finder by reading what our community of users and beta-testers have to say about it.
"The fish finder works as advertised and is a great value for the price. It does a great job for kayak fishing and I recommend it. It is very easy to set up and start to use it in just a few mins."
"This fish finder is very easy to use. It took me 2 minutes to teach my 7 and 10 year old sons to use it while I navigated the boat through the lake. We didn't catch a lot of fish but we also aren't experienced fishermen. We did catch more than we normally have."
"This is a great device for the fisherman and well worth considering if you're the kind of guy who camps lakeside dressed head to toe in green at weekends."